Board appointment will help guide target identification and drug discovery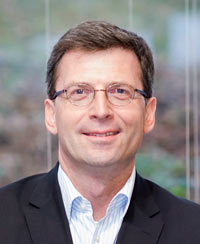 PhoreMost Limited, the UK-based biopharmaceutical company dedicated to drugging 'undruggable' disease targets, today announced it has appointed Dr Lorenz Mayr to its Board as Non-Executive Director. Dr Mayr's experience in drug discovery and development, and specifically his expertise in functional genetic screening in target identification, will help drive the expansion of PhoreMost's next-generation SITESEEKER® target discovery platform and guide the development of the Company's drug discovery programme.
Dr Mayr is Chief Technology Officer at GE Healthcare Life Sciences, where he is responsible for R&D strategy and innovation across all life sciences business areas. He has extensive global experience in pharmaceutical R&D, including holding positions as Vice President & Global Head at AstraZeneca and Executive Director at Novartis Pharmaceuticals and Bayer Pharmaceuticals. Dr Mayr gained his PhD at the University of Bayreuth in Biochemistry and Biophysics, subsequently completing his PostDoc at the M.I.T/Whitehead Institute in Cambridge, US.
Lorenz's expertise and global industry leadership will be invaluable in shaping PhoreMost's future development as a fully integrated target identification and drug discovery company. As a key thought leader in functional screening and novel modalities we are particularly proud to welcome him to our Board.
Dr Chris Torrance Chief Executive Officer, PhoreMost
The convergence of biology and technology is an innovative and industry-changing area which opens the door to identify many new drug targets and improved therapies, not previously seen with conventional methods. Such is the potential of the SITESEEKER platform and I am extremely pleased to join the PhoreMost Board at a pivotal stage in the Company's development. I look forward to working with the team to support its progress and bring novel therapies to market.
Dr Lorenz Mayr, Non-Executive Director, PhoreMost
The SITESEEKER platform is based on PhoreMost's core proprietary protein interference or 'PROTEINi' technology. Using SITESEEKER, PhoreMost is able to probe the entire proteome in a live cell environment for novel druggable targets linked to any chosen disease, using the massive 3-D shape diversity of natural protein fragment (sub-domain) libraries. This enables the systematic unmasking of cryptic druggable sites, directly linking them to useful therapeutic functions.